About
Recognition Awards for Innovation and Early Success In Textbook Transformation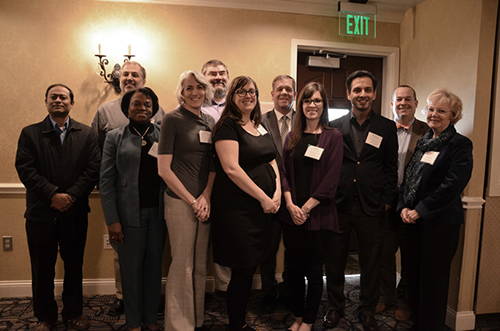 Recognition Awards recipients in attendance at the Symposium on the Future of the Textbook 2014
Affordable Learning Georgia has been working with Campus Champions and Library Coordinators to raise awareness about how affordability, accessibility, and choice in learning materials can improve student success and potentially increase retention, progression, and graduation.
The ALG Recognition Awards for Innovation and Early Success in Textbook Transformation honor these pioneering faculty for their transformations of the textbook to no-cost Open Educational Resources, saving USG students more than $1,000,000 in Academic Year 2014 alone. Awards will be presented during the closing program of the Symposium on the Future of the Textbook.
Congratulations and kudos to all!
| Name | Discipline/Department | Institution | Email Address |
| --- | --- | --- | --- |
| Dr. Sanjeev Arora | Physics | Fort Valley State University | aroras@fvsu.edu |
| Dr. Peggy Brickman | Plant Biology | University of Georgia | brickman@uga.edu |
| Dr. Katie L. Brkich | Teaching & Learning | Georgia Southern University | kbrkich@georgiasouthern.edu |
| Dr. Susan Burran | Biology | Dalton State College | sburran@daltonstate.edu |
| Dr. Andrew Edelman | Animal Ecology & Conservation | University of West Georgia | aedelman@westga.edu |
| Dr. Hassan El-Najjar | Sociology | Dalton State College | helnajjar@daltonstate.edu |
| Mary Jo Fayoyin | Library Services | Savannah State University | fayoyinm@savannahstate.edu |
| Dr. Priya Goeser | Engineering | Armstrong State University | priya.goeser@armstrong.edu |
| Dr. Greg Gowens | Physics | University of West Georgia | ggowens@westga.edu |
| Dr. H. David Hunt | Sociology | Georgia Regents University | hdhunt@gru.edu |
| Dr. Steven Lewis | Physics | University of Georgia | lewis@physast.uga.edu |
| Dr. Anissa Lokey-Vega | Instructional Technology | Kennesaw State University | avega4@kennesaw.edu |
| Dr. Jeffrey Mahr | Biology | Georgia Perimeter College | jeffrey.mahr@gpc.edu |
| Dr. Robert A. Maxwell | Biology | Georgia State University | bioram@langate.gsu.edu |
| Dr. Taha Mzoughi | Physics Education | Kennesaw State University | tmzoughi@kennesaw.edu |
| Dr. Arun Saha | Physics | Albany State University | arun.saha@asurams.edu |
| Dr. Julius E. Schneider | Biology | East Georgia State College | jschneid@ega.edu |
| Jeanne Sewell | Nursing Informatics | Georgia College and State University | jeanne.sewell@gcsu.edu |
| Dr. Theresa Stanley | Biology | Gordon State College | t_stanley@gordonstate.edu |
| Dr. Richard Stephens | Mathematics | Columbus State University | stephens_richard2@columbusstate.edu |
| Dr. Diana Sturges | Anatomy and Physiology | Georgia Southern University | dsturges@georgiasouthern.edu |
| Dr. Al Walters | Physics | University of North Georgia | al.walters@ung.edu |
| Dr. Matthew Williamson | Anatomy and Physiology | Georgia Southern University | mwilliam@georgiasouthern.edu |
| Dr. Humayun Zafar | Information Security | Kennesaw State University | hzafar@kennesaw.edu |