About
Featured Advocate: LaVerne McLaughlin
LaVerne McLaughlin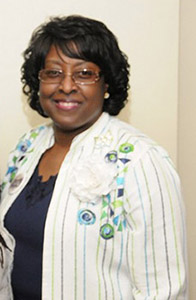 Position:
Associate Professor and Director, University Library and Archives
Institution:
Albany State University
Background:
Dr. LaVerne McLaughlin is the Director of the Library and Archives at Albany State University, and she serves as the ALG Campus Champion and ALG Library Coordinator for her institution. ASU has a prolific record of successful Textbook Transformation Grants proposals, with seven teams funded in five rounds of grants. Behind all of these successful proposals and student textbook cost savings is the advocacy work of Dr. McLaughlin, raising awareness of both open educational resources and Affordable Learning Georgia.
At a personal level, Dr. McLaughlin reaches out to individual faculty to consult with them on replacing textbooks with OER, often selecting particular textbooks for faculty to review for a potential implementation. At an institution-wide level. she has created both instructional and marketing materials to raise awareness of ALG, including a video for the 2015 ASU Annual Faculty Conference to both instruct faculty on the basics of OER and raise awareness of Textbook Transformation Grants opportunities. Dr. McLaughlin has also created instructional bookmarks and flyers for distribution at faculty events and within the library.
"I feel that [library participation in making education more affordable] is an important step to get support for students through the adoption of OER textbooks. With ALG, students can have their textbook on the first day of class and hopefully stay on track with course readings and assignments."